I have bought my bike in 06/2011 in almost new condition from first owner (330km on odo).
This is how it looked like: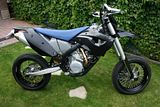 Mods already on the bike:
-black plastics
-husaberg handguards
-axle crash protection
-blue fuelcap thingy
First thing I did was get frame protectors on it
At first I was not impressed about the bike's straightline performance felt realy slow
loooooong gearing (14/3
and It didn't go fast top speed of +-140 it was also very quiet from the exhaust...
So I took it to my local berg dealer and it seemed that the bike was still restricted with max 7000rpm engine map+big cat in the headers.
They removed the cat and loaded "full power" map in the ecu and the bike felt 10x faster/stronger an had nicer 4 stroke sound instead of the sound of a tractor
But I already ordered a fmf 4.1 pipe an bigger (40) rear sprocket just before that....
-Great pipe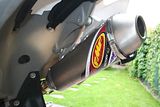 I also put the stock plastics back after a few months (that came with the bike) just to have something new to look at
I didn't like the handguards so sold them and bought myself some zeta amror handguards I also wanted to have a computer with more info (revs engine temp etc) So installed a trailtech vapor stealth
+changed suspension settings to "comfort" by the owners manual better for my (62kg) dry weight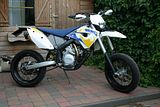 After 4 months owning the bike using it 80% for commuting
I did my first trackday on croix en ternois in france
(just put pirelli supercorsa's on the bike and that's it )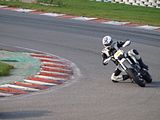 I am used to riding racers so that explains my riding position
I tried pushing the bike away from me and get my foot off the pegs for a few corners but it felt awkward.
I also crashed the bike for the first time in the 1st session at the start of my 3rd lap
(Just finished 2 warming up laps and I thought I was invincible om my little berg and outbraked 2 racers going in a left corner and lowsided the front end of the bike sliding into the gravel
)
My suit was more damaged then the bike the stretch on my backside/ass was ripped + my glove's where a bit "used"
The bike only had damage to left footpeg+left axle sliders/handguard/tiny marks on leftside of rear rim from gravel.
So just picked the bike up and continued riding for the rest of the day wit a slightly dented ego+showing some skin
After the trackday I was practicing my "stoppie skills" on the road and I thought I was getting good at it getting higher/rolling further all the time
But just 2 weeks after my 1st crash I landed a stoppie upside down
I just managed to jump of the side of my bike while flipping over (almost at standstill) and the bike just stood there upside down whit the engine running/rear wheel still spinning
This destroyed my stock rear fender (cracked in 2 by impact) so back to black :P
Then I was using it just for commuting during winter 2011/2012 and destroyed my 1st chain/sprocket set because of the salt on the road in only 5000km
I ordered a longer chain+bigger (41 talon) rear sprocket and stopped riding till the roads where salt free again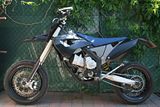 After this not much going on did some offroading and crashed it the 3rd time trying to ride up some stairs
Also replaced the rear tyre that got good mileage +5000km (mostly to work)
A few months later I bumped into some nice black plastics with blue chrome/graphics on ebay
So the bike was transformed again into this (that I realy like
)
I have read here about the rad shroud mods so did that... Didn' notice much to be honest but whatever
30 september 2012 I did another trackday in clastres france (fitted supercorsa rear back on the bike + used front slick tyre from my racer)
+ crashed the 4th time before the trackday even started
http://www.youtube.com/watch?v=D1xNAUCj ... ature=plcp
I wanted to get a good view on the track but didn't expect the hill was going straight down again when I got up
I also ordered this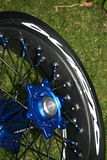 Alpina carbon matrix rims with black spokes blue nipples/hubs 5" rear 17 front these thing are LIGHT!
I added some more bling a few weeks ago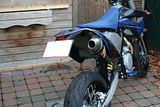 Blue talon footpegs+sliders
Last week I bought a good used rear tyre so I could fit my alpina rims bike looks REALY nice for me now and you can realy feel the difference in handling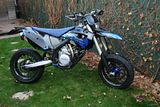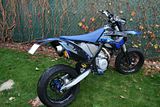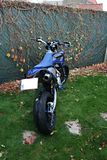 The bike has now run over 150 hours and almost 9 000km and I am planning to do 1 more oil change than ride it to 10k and get the engine out and get some new parts in...
I als want to do less comuting/more trackdays next year so I might tune the bike a little more