for no other reason than i want to see if i can do it, i like to fiddle and it'll be fun i have embarked upon project bargain basement.
the aim; to get a set of road legal supermoto wheels for £150 max, preferable closer to £100.
so far i got a rear wheel in very good condition with usable disc and sprocket for £20.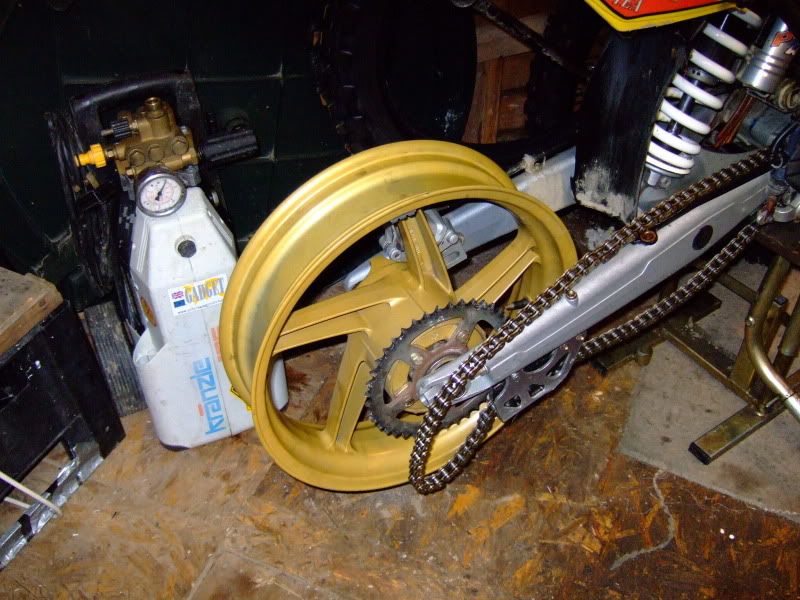 after a bit of a fight getting the disc off which involved a hammer, blow torch, oil and a hex key with a 12" extension on it i got the wheel fitted to sort out the spacing. its goin to be tight on the hub, talking about 1 mm between the hub and the swingarm on the drive side, but the chain line will be spot on.
on the disc side i'm goin to have to mill about 4-5mm from the disc carriers to align with the caliper.
here's a vid to show the wheel fitted. spins freely, though this is without spacers.
to top it off despite the fight getting the disc off all the bolts are fine and reusable.
next i've got to get the spacers done and the carrier machined.
Options for the spacers is have them made complete or get some oem ones and get them machined down, this is what i'm opting to do, though i am making some enqs about some rsvr mille spacers, which to the eye look as if they might fit direct.
cheers.