as mentioned elsewhere i blew my budget buying the berg so doing my mods and parts on the cheap. i know the ideal setup is usually aftermarket fuel tank(s), wolfman tankbag and giant loop bags on the rear but if anyone else is on a budget thought they might be interested. i know it's top heavy, and makes getting on and off the bike a bit trickier but can't afford the trick gear yet!
ONE DAY RIDES
i got a kriega 10 liter tail bag mailed out for $100. i wasn't really impressed with the strap system for the berg, and realized i could have just got a heavy duty dry bag from a camping for $25 and bungee strapped it down (however one rider mounted the kriega tail bag to the kriega base normally used with their tank bag and was happy with that). this works out well for carrying tools, first aid kit, tow rope and extra liter of fuel in a camping-style alloy fuel bottle.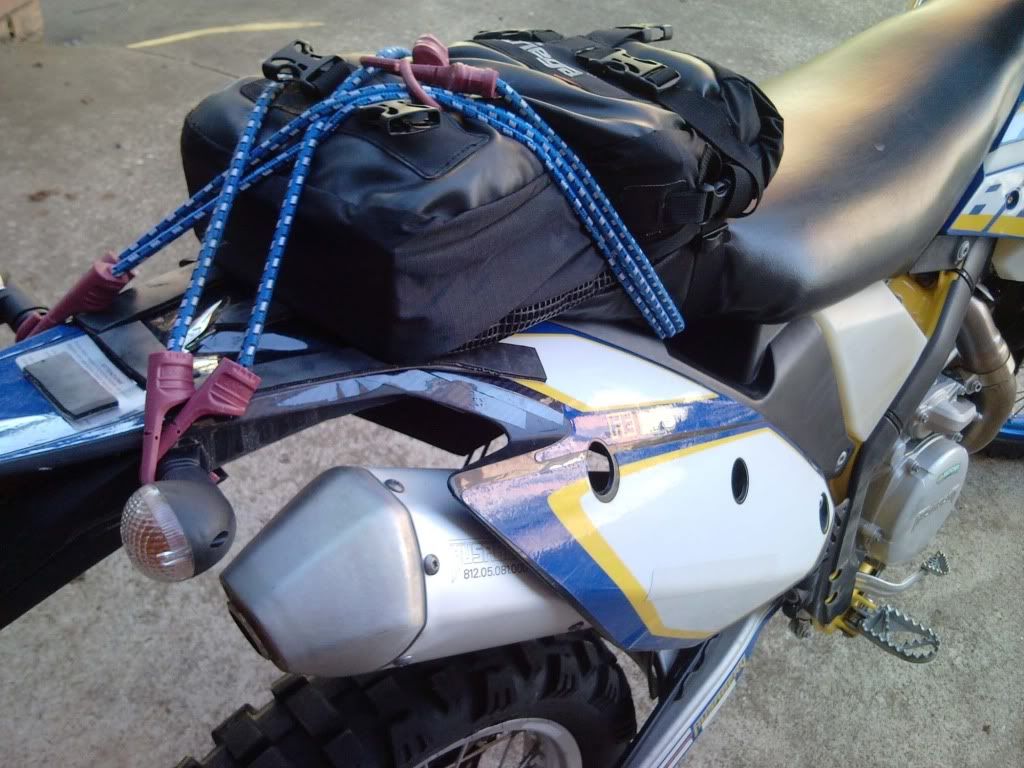 i've used one of the kriega straps running under the seat on the slim chance all the octopus straps disappeared. the bag would flap around but at least stay on the bike. i stuck some black vinyl down on the exposed parts of the rear fender so that slight movement of the bag wouldn't rub through decals or the fender plastic. then i cut some rubber strips, put double sided tape on them and stuck them down on the ridges of the rear fender so the rubberized kriega bag doesn't move around at all (see below). ugly as sin but i'll always have a bag on there so doesn't worry me. this setup has worked well so far no matter how many jumps, ruts or corrugations are hit with the berg.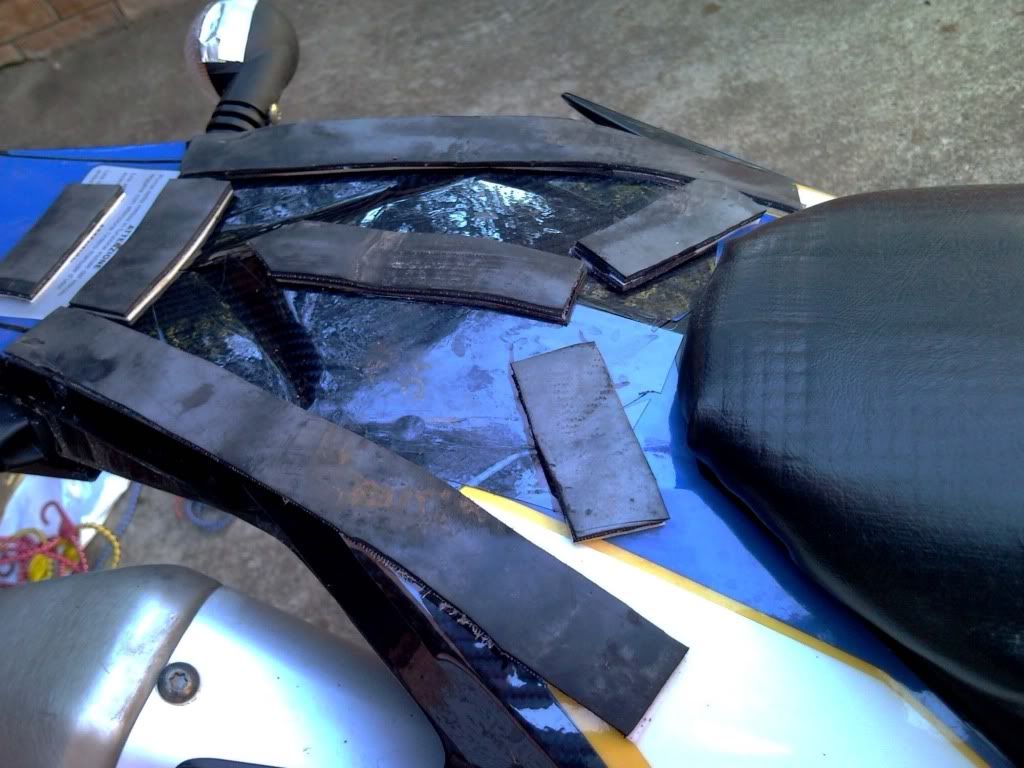 TWO DAY RIDES AND/OR 5 LITERS EXTRA FUEL
next step was how to carry an extra five liters of fuel for adventure rides, with the option of luggage as well. i got a 30 liter dry bag from a camping store for $39 (anaconda if you are in aust). this has a heavy duty rubberized finish so sticks to the rubber strips well, and can fold down easily if i don't have that much luggage. next was a squat-shaped 5 liter jerry can for $19 (supercheap if you live in aust). the opening is at the top when packed so minimizes the chance of fuel dribbling out and stinking up luggage. this extends the fuel range by 70%.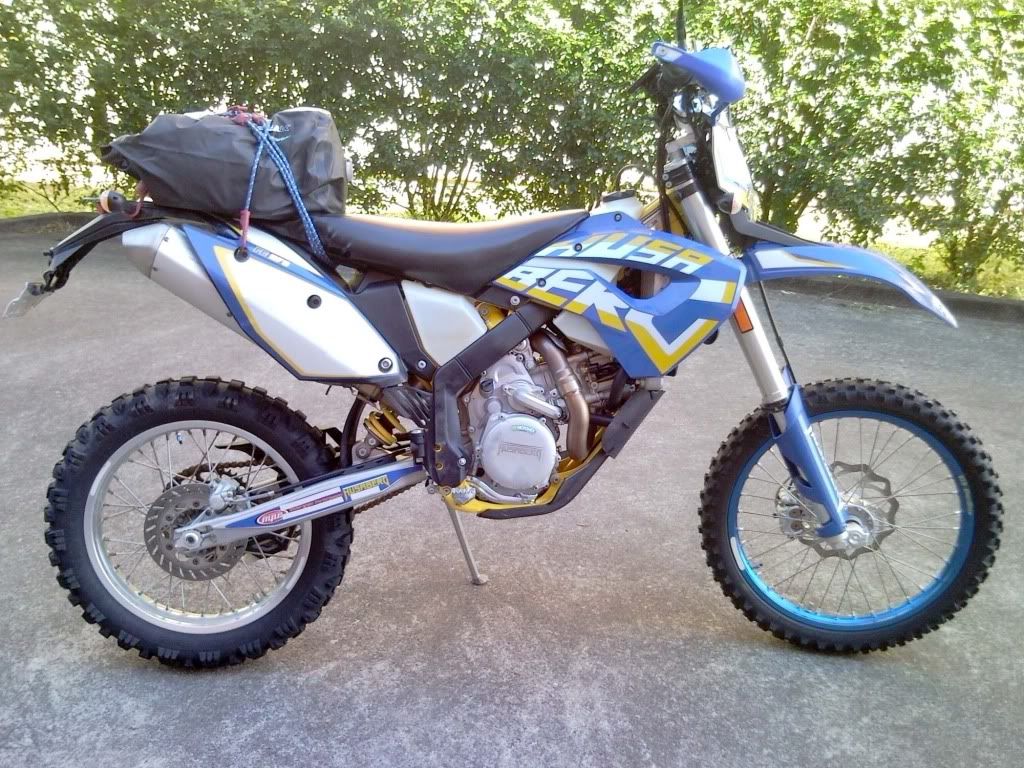 i haven't actually gone out and trialled this setup on a ride. i'd keep the jerry can sitting on the seat, not the rear part of the fender, so that stress on the subframe is minimized. my concern is the strapping: even though it feels very secure, if the indicator stalks both failed then the whole thing could go flying. i'm thinking of an extra strap that goes into the existing hole of the right hand side panel (e.g. the exhaust side), then drilling a hole in left side panel and just run another octopus strap, or maybe a heavy duty rubber strap over the top of the lot. anyone tried this? thoughts on the issue?
THREE+ DAY RIDES AND/OR 10 LITERS EXTRA FUEL
not sure if i'll ever do rides where i need more than 270km between fuel stops, but if so there are similar squat-shaped 10 liter jerry cans with the opening at the top. the one below is $40. however i'd be starting to get concerned about whether this is too much weight on the subframe in rugged terrain, and whether the strapping system mentioned would be strong enough. it would extend fuel range by 117%.
out of interest, i experimented with this, then just light luggage in the kriega 10L tail bag strapped over the top. the whole thing was starting to look too high and difficult to keep stable so doubt this will work.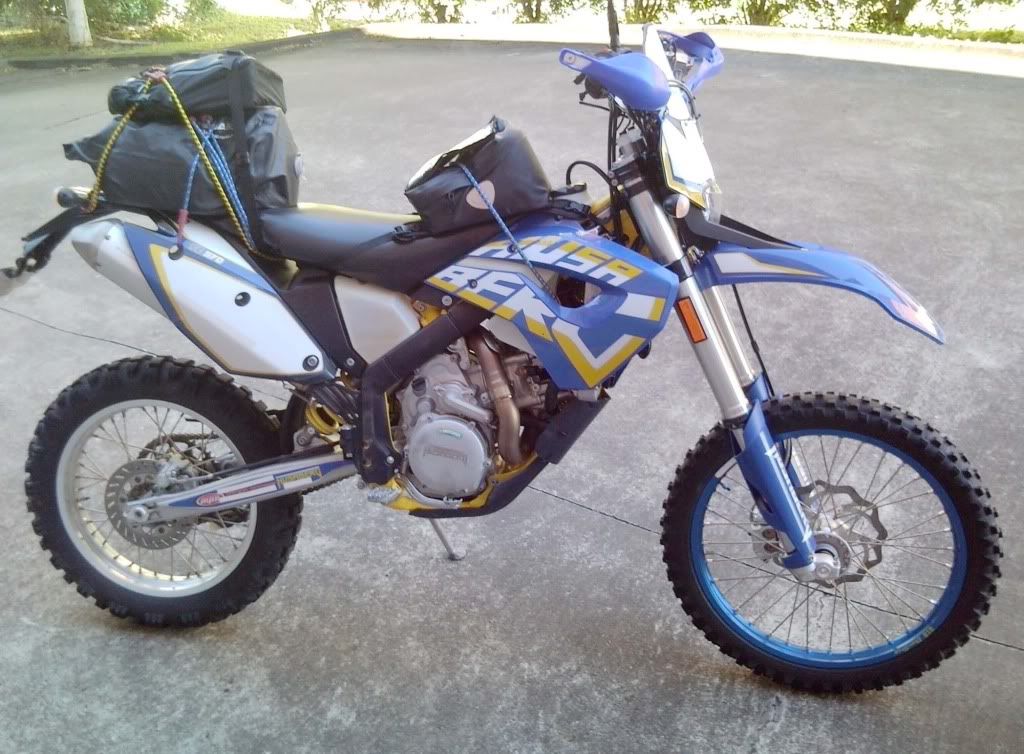 out of interest, i wanted to get the wolfman tank bag but needed it for an adventure ride and there was no stock in australia so bought a Bags-Connection Enduro Lite strap-on Tank Bag for $39. it's worked out okay but you can see in the pic i need an octopus strap to ensure it doesn't move around. also when i stand up i find my legs are gripping the bag, not the actual bike, which isn't great for dirt riding. does the wolfman tank bag taper at the rear to avoid this? not a big issue, as i'll only strap this on for long adventure rides when i'm after all the luggage capacity i can get.
below is the gear i've bought so far.