I took my pipe apart and learned over on KTM Talk that that these bikes either come with a KTM style can or a Husaberg can. Lucky for me mine came with the KTM can. The KTM can is a straight through design, with a turbine style spark arrestor. It is simple to mod for better flow while still retaining spark arrestor capability.
Here are the pics.
Front section
Front view of spark arrestor
Rear view of spark arrestor
I wound up removing the star nut and restrictor disc thingies from the end cap and shortening the tube on the end cap back to the angled brace visible in the top photo. It seems to flow well, my guess it is on par with an FMF Q. It is louder, but not bad. Perfect thumper sound actually, to this rider's ear.
This is the Husaberg style can (from the manual)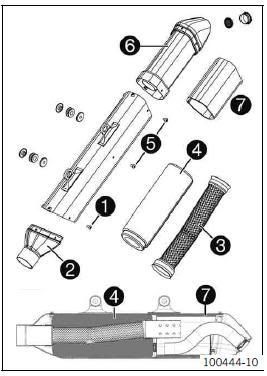 The cans have different part numbers on them, the KTM one is stamped Husaberg, but also "KTM Krizman spark arrestor". As you can see from the diagram, the Husaberg can is a bit of a nightmare. If I had one of those, I would just replace it with an FMF straight away. You could shorten the end cap tube way down, but then it likely would not be effective as a spark arrestor.
Gotta love the torx screws holding these things together. No pop rivet hassle