**this is quite an old pic, it's the only one I have of both bikes in the same pic. (Have ridden them a lot since then)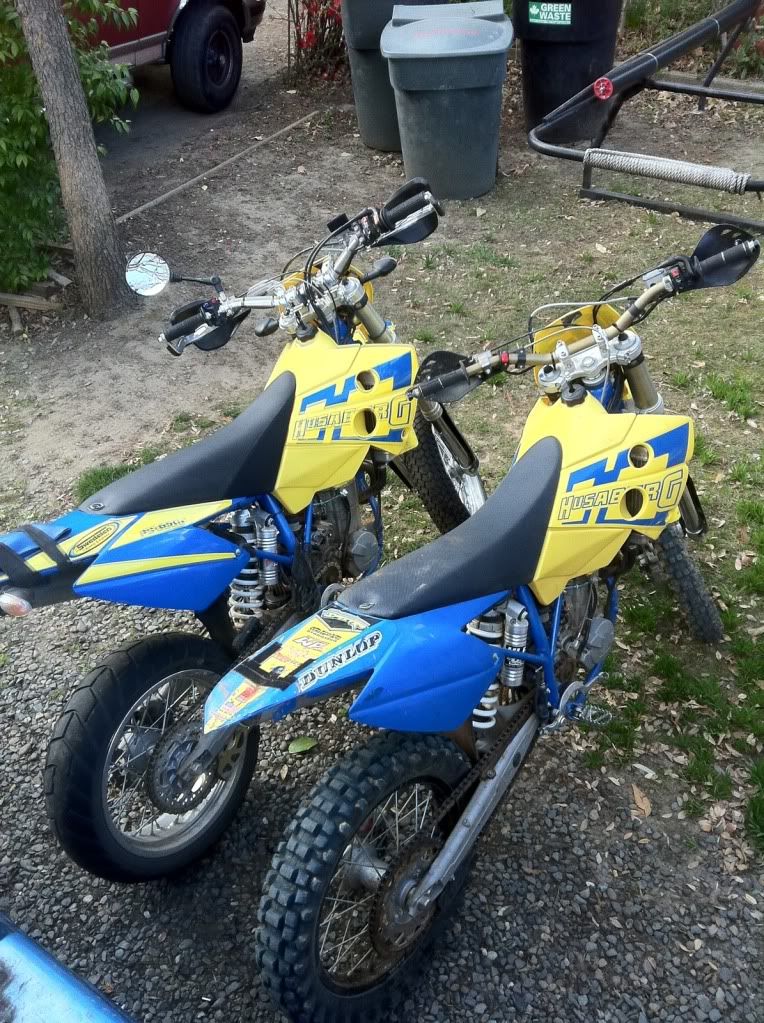 2005 FE550e parting out.
CA registered green sticker on a non-op.
It's disassembled and has been for about a year. Some parts are on the FS chassis currently such as:
Swingarm
Krizman silencer, has been ..."clearanced" to clear a 160 rear tire.
Footpegs.
Forks.
Shock.
Seat.
375 hours... It needs a rebuild.
It was running great and had plenty of power, but developed a knock that I suspect is from the main bearings.
I changed the oil and pulled the engine.
Bottom end has never been opened up, at least since @175 hours when I bought it.
Oil every 6-10 hours, valves @ 30-40 hours.
I put dual valve springs in it @250 hours.
I replaced the timing chain and cam follower bearings three times.
Valve cover is off, camchain has been broken.
Cam is slightly scratched, can barely feel it with fingernail.. there is no color whatsoever from heat.
It also has a Rekluse clutch, it's the earlier model "z-start?" I believe.
The previous owner installed it.
It has the longer straightish earlier kickstarter for some reason.
Wheels:
They were black anodized by the previous owner. They are stock, new bearings in the rear (not new, but 3 rides old).
In decent shape, some tire change scratches in them, they are relatively true...
Ok 50t sprocket, decent oem discs.
Newish Pirelli MXMH front. Shagged rear tire.
I have a new never installed 18" tubliss system also.
The tanks (2 2005 tanks) are in good shape, still fairly bright yellow.
I have an underseat 3liter tank also.
Plastics:
Shrouds on the tanks are in good condition, the rear section broke, and is safety wired together. Front fender is cut shorter. Headlight and mask are in decent shape.
The wiring harness is from a 2005 C model, so it has no circuits for horn, indicators, switchgear or rear brake light switch.
I don't have the e model wiring harness anymore.
Forks are revalved and resprung for dirt, and supermoto @ my weight, 220£... They are great and I'd like to keep them, but can sell them if you really want them. The forks have around 150 hours use on them since the work, so they could use servicing.
Shock is an oem 05 FS shock with the spacer removed so it's full travel.. it was serviced as well.
(Around 50 hours use since then)
2005 FS650e for sale, or part out.
It has 543 hours on it. Not a typo, 543 hours on the engine. Bottom end never opened.
I bought it @135 hours 3,000 miles.
Dual valve springs @250 hours
2 timing chains
3 sets cam follower bearings.
Since 200 hours I used Rotella T 15-40 @10hour intervals.
As it got past 350 hours, I changed it more often, usually after every ride, 4-6 hours.
Last weekend's ride, I trucked it up to 5,000' and rode 60-70 miles of dirt road. It ran great, and was still making good power even at 7,000' elevation.
I went to change the oil a few days later and found a couple new unfamiliar shavings on the magnet. I changed it, and rode it up and down the street to warm it up fully. It starts easily, runs great, and
It is making a knocking sound on the left side.
Could use a rebuild lol.
I don't foresee getting any amazing offers for the complete bike, so it probably will get taken apart. I will likely keep the CA plated frame.
Like I mentioned above, it has some FE parts on it currently.
2006 yellow 10.5 liter tank and shrouds (blue 'ok shape', and yellow 'scratched up')
OEM Behr 17" supermoto wheels. 3.5 front, 5.00 rear. Cush hub rear.
Made tubeless with black rtv over Mylar stickers over nipples to isolate spokes. Wheels can be trued without wrecking the seal. 18,000 miles of mostly trouble free use on the tubeless setup. Plug and go if you pick up a nail.
*these wheels have around 26,000 miles on them, so not pretty anymore. They have seen a fair amount of dirt use.
Rear is fairly true as it needs to be to clear the swingarm and chain. Front has some dents and dings from rocks.
They have some scratches from tire changes and dirt use.
Front brake is a radial 4 piston beringer
Front MC is oem beringer radial.
Braking 310mm rotor with some life left in it.
Rear disc is the FS oem thicker one.
Has the 16/18 adjustable billet clamps.
FS forks could use servicing.
FS shock also needs servicing/recharge.
I'll try to get some pics.
I really don't want to list and photograph everything, as its time consuming.
All the parts are certainly available.
Make a reasonable offer for what you would like right here, no pm's please unless you/I need to share contact and payment info.
I'm in Northern California, zip code 95841, so you can get a ballpark estimate on what shipping would cost.
The post office is 2 blocks from my house, so I'd prefer to use USPS, but can/will ship by other means if it's a considerable savings for you.
Thanks, more info to come...